How To Negotiate With Wedding Vendors – Like a Boss
How To, Wedding Budget On 5524 3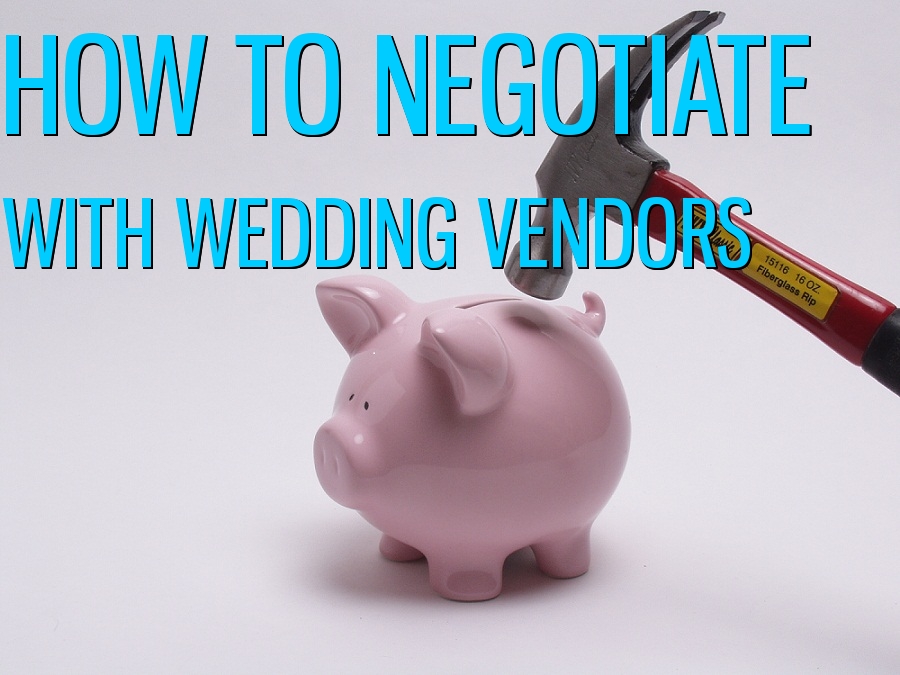 Learning to negotiate with wedding vendors can be a painless process.  You're probably reading this article because you've got some vendors in mind who've quoted you prices.  And the thought of negotiating with them has caused you to become nauseous and sweat profusely.  I know, because I too have been there.  There was a time when the thought of asking a vendor to lower their price sent me into a low grade anxiety attack. And I'm not even joking. Not even a little bit.
Haggling is a way of life in many parts of the world.  There's no shame in it, and in fact it can be exhilarating.  Wedding vendors expect you to negotiate.  Most of us would never buy a house or a car without negotiating the lowest price first. So why not negotiate services that cost thousands of dollars?  The average cost of a wedding in the United States is now over $28,000, and where I live in NYC the average wedding costs a whopping $76,000!  With prices like that, negotiation should be your new best friend.  Except for the services I knew we were getting at a great price on, I negotiated everything with my wedding, saving us thousands.  You would be shocked how making a simple request gets big money saving results.
So fear not my friend.  Allow me to guide you through the bumpy road to self-confidence called negotiation.  After you negotiate with a wedding vendor the first time, you'll feel great.  Even if you don't get the price you want, at least you were bold enough to ask.
Step 1: How Much Can You Pay?
Determine your budget.  Honestly, what's the absolute max you and your intended are willing to pay for the service?
Write it down. Right now. Go on…Ok. Good.
Now remember, the absolute max is your little secret and it will never be shared with vendors, just keep it in your head.  More on this later.
Step 2: Do Your Research
Research the vendors you're interested in to find anything that will give you an idea of what their clients have actually paid vs what the vendors claim to charge.  Vendors like to put on a good face by claiming they charge higher prices than what most of their clients actually end up paying.  Some people do pay full price but most people will ask for a deal because they know how the wedding/event industry works.  And now that you're reading this, you're one of these smart people too.
Start Googling.  For example, if you're looking at venues, you can type in, "Venue ABC wedding pp."  The "pp" = per person.  This will pull up forums & reviews where people say what they were quoted or charged for their wedding at said venue.  If you're looking into photographers, you can type in "ABC Photography wedding $."
Step 3: What To Say
Never, never tell the vendor your absolute max budget!  Always give them a number at least $300 – $400 lower than your max,  because once you give a vendor a number they will often counter with a higher number.  I learned this lesson the hard way with florists who consistently quoted me prices $300-500 over what I told them our max budget was.
In terms of venues that charge per head, always go at least $20-$25 lower than you can afford.  For example, if you expect 100 guests and your budget for the venue is $10,000, $100 per head seems reasonable.  But consider taxes and fees which will raise that price to around $120 per person, that adds another $2000 onto your bill.  So if you tell a venue you can afford to pay $75 per person, you will still end up paying around $100 per person anyway.
Read & practice this script: "I know you quoted me $x, but we've budgeted $y for this service.  Can you work with us?"  Then wait silently and hold the persons gaze.  Eye contact = strength and confidence.  Fake it til you make it.  And try not to fidget while you wait.
This script works over the phone and in person.
Step 4: Be Flexible
Negotiation is a two-way street. You have to be willing to budge for them to budge. If the venue won't lower their price per person enough, consider having the wedding in the afternoon, the morning or even on a weeknight.  If the photographer will only go down $100 or so, ask if he or she would be willing to include an engagement shoot for the same price.  Sometimes you win by having a vendor throw in something extra, rather than having them drop their price.
At this point the vendor will usually make a counteroffer or flat out say No.  It's fine if they say No because they are not the vendor for you. As simple as that.
Step 5: Negotiate 
Call or visit the vendor.  I know.  It's scary.  But you can do it.  And you'll be fine.
If you follow these steps to negotiating with wedding vendors, you should be well on your way to saving thousands of dollars.  And remember, after you've come to an agreement, you can still ask the vendor to throw in extras, within reason of course.  For example, our wedding hall gave us the use of the smaller ballroom since we had 100 guests.  This meant we wouldn't be able to use the larger cocktail room.  A few days before the wedding, I asked if we could use the cocktail room and they agreed since it was not booked on our wedding day.
So you never know what you can get until you ask.   As a wise friend once said, "A closed mouth don't get fed."
What are some tactics you've used to negotiate with wedding vendors?  Which one worked for you?  Tell us in the comments below. We'd love to hear about them!