6 Fabulous Non-Cheesy Bridesmaid Gifts Under $50
Bridesmaids On 2926 0
Finding the perfect bridesmaid gift without coming off as cheap or cheesy can be difficult. I personally don't like the typical bridesmaid gift of the giant monogrammed tote bag.  Walking around Manhattan with my initials emblazoned on my bag for all the world to see didn't seem very smart.  And I thought jewelry was nice enough but since everyone has their own specific tastes in jewelry I didn't want to risk getting them something they'd never actually wear.  After racking my brain for weeks I calmed the heck down and realized that the best gifts are often the simplest gifts.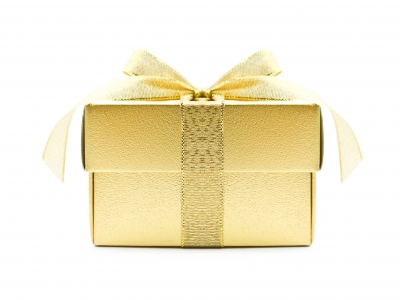 Massages – The ladies could probably use a bit of relaxation after all the wedding  planning.  Massages usually cost well over $50, but you can find discount spa services on Lifebooker, SpaWeek, or even through Groupon and LivingSocial.  If you use Groupon or LivingSocial be sure to get there early before the bridesmaids and redeem the deal.  That way, they'll never know it was a discount service.  And be sure to read the spas reviews before you buy so you'll know your maids will be in good hands.
Mani/Pedis – Here's a tip.  Talk to your favorite local nail salon and ask if you can get a discount since you will be paying for several services at once.  For example, if you have 4 bridesmaids and a Mani/Pedi usually costs $30 each ($120 total), ask if they'd take $100. You never know, they might say yes.
Bottle of her favorite wine/liquor
Chocolates – Who doesn't love chocolate?  Except for those who are allergic of course.  A small box of fancy chocolates from a brand like Godiva, Lindt or Ghiradelli in addition to another gift is a nice touch and chocolate has been found to have mood elevating properties.  And it can cost as little a $5 each.
Robes – They'll need something to get their hair and makeup done in on the big day, so why not get them some pretty, comfy robes?  You can also have the robes monogrammed with their initials or "Bridesmaid" on the back.  I skipped the monogramming as I wanted to give them something they'd feel comfortable wearing after the wedding.  There are no rules when choosing robes.  The robes can be multicolored and you can give each bridesmaid her own color.  The options are endless.  You can find robes on Etsy, at Walmart, JCPenny or even Target. I randomly found robes for my bridesmaids at H&M for $25 each.  I even considered some beautiful kimono robes in Chinatown.  If you do go to Chinatown, remember to haggle.  The more robes you buy, the more money they'll be willing to take off the total price.
Gift Card to her favorite store
I did end up putting the gifts for my bridesmaids into large colorful reusable totes from Michaels for $.99 each.  They loved them.
What are the best/worst bridesmaid gift you received?  Tell us the the comments below!  We'd love to hear about it!