3 Reasons To Consider A Custom Made Wedding Dress
Wedding Dresses On 881 0
A custom made wedding dress is a lot more affordable than you might think.  When I was looking for a wedding dress, I was surprised at how affordable it was to have it made.  I found several dressmakers willing to create my dress for under $600!  There's the tried and true old fashioned route of getting a local seamstress to create one for you.  Or to give yourself even more options, you could order your custom made wedding dress online.  There are many dressmakers all over the world who have beautiful websites with samples of their work.  Here are three reasons to consider a custom made dress: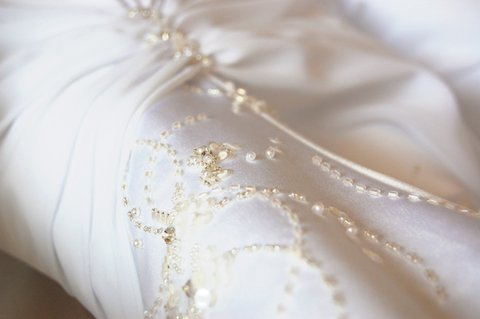 Maybe the price tag on that Oscar de la Renta or Vera Wang dress you've been salivating over for months has left you with hives.  There are dressmakers who will make you a dress "inspired by" whichever designer you want.  No, it won't be an exact copy, but it'll be close enough to leave your guests guessing.
When you have an idea of the dress you want but can't find it anywhere. Why not take some time and meet with local seamstresses or send some emails back and forth with an online designer? A little bit of effort can literally give you the dress of your dreams, at a price you can afford and made just for you.
You love being different and want to stand out.  If you want a dress that's non-traditional and uniquely "you," then custom is the way to go. You could spend months searching for the that perfect dress or you could simply have it created for you.
You can find local dressmakers through Yelp, Citysearch and even Craigslist.  And I found the best online dressmakers through Etsy.  Here's a great article from Offbeat Bride on how to find a dressmaker.
Have you considered a custom made wedding dress?  From where and what was your experience in dealing with the dressmaker?  Tell us in the comments below.  We'd love to hear about it!